What Is SecureDrop?
SecureDrop is an open-source whistleblower submission system that media organizations can use to securely accept documents from and communicate with anonymous sources. It was originally created by the late Aaron Swartz and is currently managed by Freedom of the Press Foundation.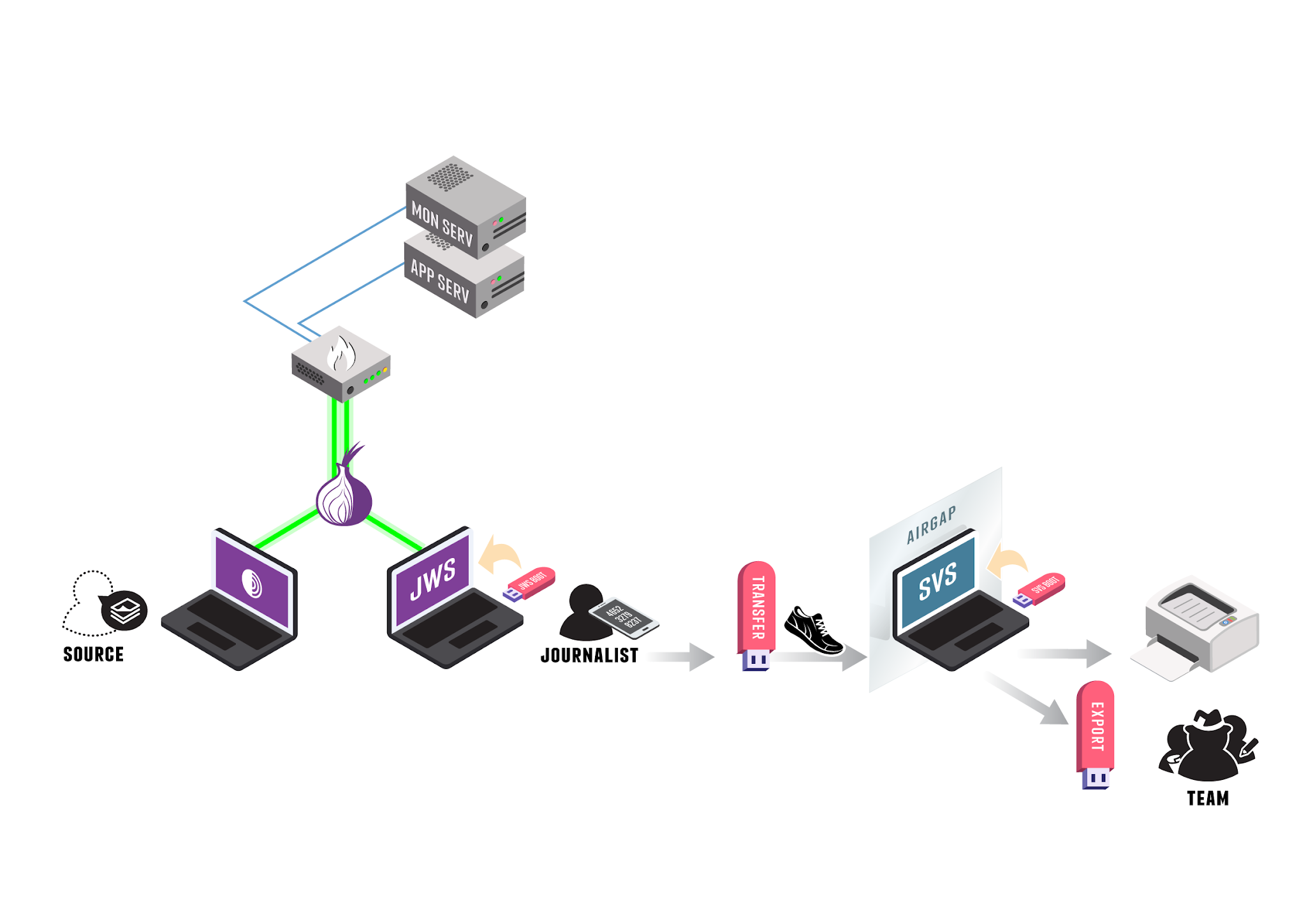 Sources and journalists connect to SecureDrop using the Tor network (represented in the diagram above by the onion symbol). The SecureDrop software is running on premises on dedicated infrastructure (two physical servers and a firewall).
The following steps describe how a SecureDrop submission is submitted, received and reviewed:
A source (bottom left in the diagram) uploads a submission to the news organization using Tor Browser.

A journalist connects to SecureDrop using their Journalist Workstation (booted from a USB drive) and physically transfers files to the air-gapped Secure Viewing Station, a machine that is never connected on the Internet.

On the Secure Viewing Station, the journalist can view the document, process it (e.g., to remove metadata or potential malware), print it, or export it to a dedicated device.
User Roles
There are three main user roles that interact with a SecureDrop instance:
Admins
The SecureDrop servers are managed by a systems admin; for larger newsrooms, there may be a team of systems admins. The admin uses a dedicated Admin Workstation running Tails, connects to the Application and Monitor Servers over authenticated onion services, and manages them using Ansible.
A source submits documents and messages by using Tor Browser (or Tails) to access the Source Interface: a public onion service. Submissions are encrypted in place on the Application Server as they are uploaded.
Journalists working in the newsroom use two machines to interact with SecureDrop. First, they use a Journalist Workstation running Tails to connect to the Journalist Interface, an authenticated onion service. Journalists download GPG-encrypted submissions and copy them to a Transfer Device (a thumb drive or DVD). Those submissions are then connected to the airgapped Secure Viewing Station (SVS) which holds the key to decrypt them. Journalists can then use the SVS to read, print, and otherwise prepare documents for publication. Apart from those deliberately published, decrypted documents are never accessed on an Internet-connected computer.
Note
The terms in italics are terms of art specific to SecureDrop. The Glossary provides more-precise definitions of these and other terms. SecureDrop is designed against a comprehensive Threat Model, and has a specific notion of the roles that are involved in its operation.
Environment Overview
Server Infrastructure
At SecureDrop's heart is a pair of servers: the Application ("App") Server, which runs the core SecureDrop software, and the Monitor ("Mon") Server, which keeps track of the Application Server and sends out alerts if there's a problem. These two servers run on dedicated hardware connected to a dedicated firewall appliance. They are typically located physically inside the newsroom, and must be physically located on-site within your organization's premises.
Application Server:

An Ubuntu server running two segmented Tor hidden services. The source connects to the Source Interface, a public-facing Tor Onion Service, to send messages and documents to the journalist. The journalist connects to the Journalist Interface, an authenticated Tor Onion Service, to download encrypted documents and respond to sources.

Monitor Server:

An Ubuntu server that monitors the Application Server with OSSEC and sends email alerts.
The servers connect to the network via a dedicated hardware firewall.
Application Environment
The SecureDrop application environment consists of at least two computers, in addition to the servers described above:
Secure Viewing Station:

A physically-secured and air-gapped laptop running the Tails operating system from a USB stick, that journalists use to decrypt and view submitted documents.
In addition to the Secure Viewing Station computers, each journalist will also need a computer to connect to SecureDrop:
Journalist Workstation:

The computer used by the journalist to connect to the Journalist Interface to download encrypted documents that they will transfer to the Secure Viewing Station. The Journalist Workstation is also used to respond to sources via the Journalist Interface.
Depending on your organization's threat model, the Journalist Workstation can either be the journalist's every-day laptop or a dedicated computer. In either case, it is recommended that journalists always use the Tails operating system on their Journalist Workstation when connecting to the Journalist Interface.
SecureDrop administrators will also require a computer to connect to SecureDrop and perform administrative tasks. This computer is referred to as the Admin Workstation, and must be capable of running the Tails operating system. The Admin Workstation may also be used as a Journalist Workstation if necessary.